"Upopoy," a base for Ainu culture reconstruction and creation, opened on July 12, 2020. Around Lake Poroto in Shiraoi Town, National Ainu Museum, National Ainu Park, memorial facilities, etc., will be developed, and it will be a source of Ainu culture to the world.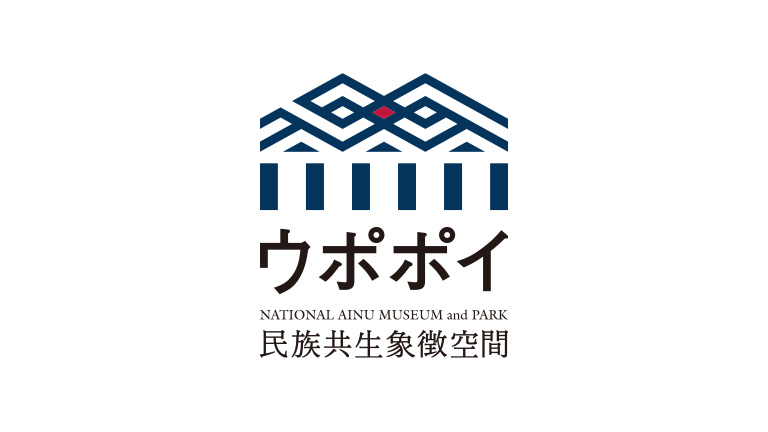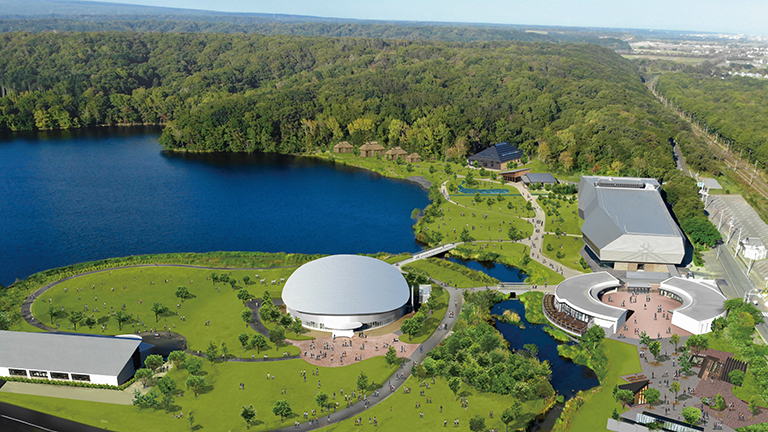 Provided by: Agency for Cultural Affairs(Image is for illustration purposes.)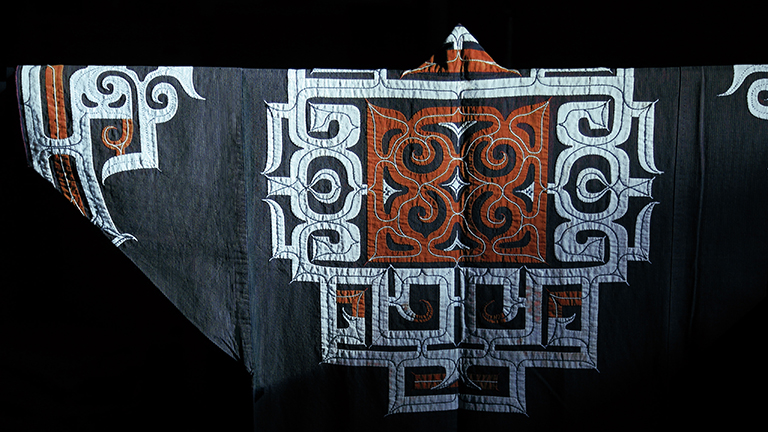 Provided by: Agency for Cultural Affairs
The area around Lake Poroto is a historically important area with scattered Jomon period ruins. It is a popular spot where you can enjoy various leisure activities that take advantage of rich nature. When you visit Upopoi, be sure to enjoy the leisure and gourmet food in the neighborhood!
Interview/shooting cooperation: Shiraoi Town Tourist Association
Waterside activities where you can enjoy the great outdoors.
Around Lake Poroto, located about 700m northeast of Shiraoi Station, there is a lot of nature that is the same as when the Ainu people lived. Campgrounds and promenades have been developed as Poroto Recreation Forest.

For those who want to enjoy the nature of Lake Poroto, the first thing we recommend is waterside activities. The visitor center in the Poroto Recreation Forest rents out Canadian canoes and can be used without prior reservation. At Lake Poroto, where the waves are calm, even beginners can try canoeing with confidence.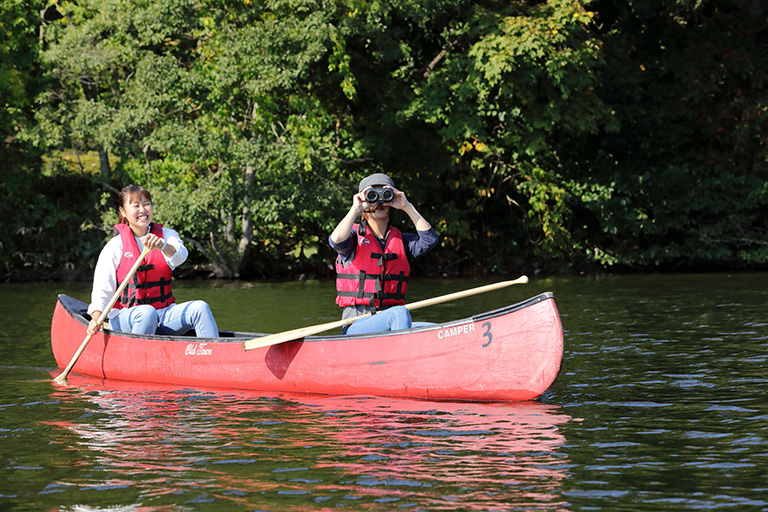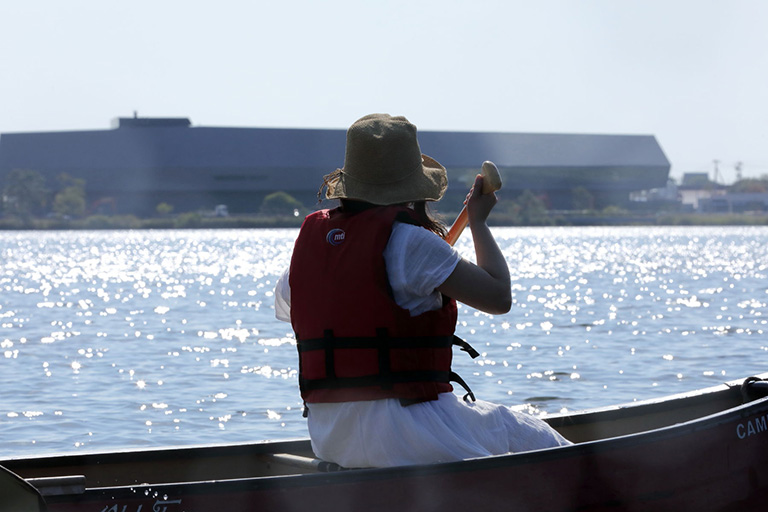 You can see Upopoi from the lake.
"Lake Poroto" is derived from the Ainu "Poro To" (large lake). On the west side of the lake, there is Lake Pont, which is smaller than Lake Poroto, so it was named a pair of places. Lake Pont's etymology is said to be "Pon To" (smaller lake) in the Ainu.
* From the Shiraoi Town Tourist Association "Shiraoi Ainugo chimei Mappu ."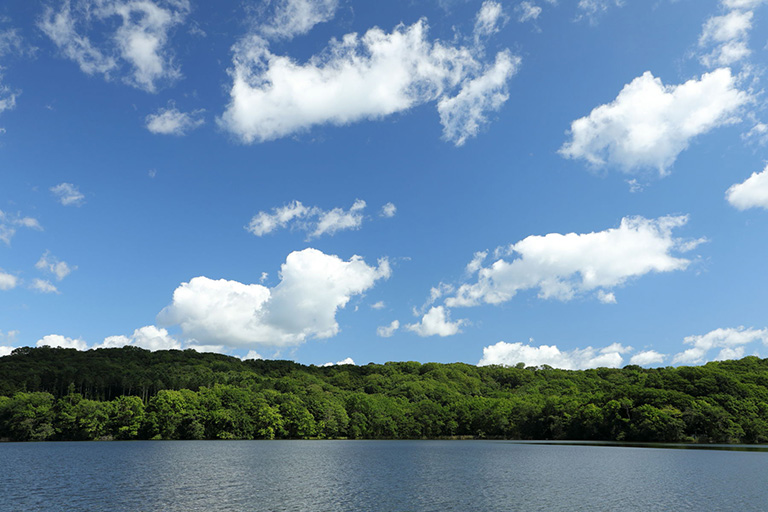 The rental cycle is recommended for those who want to walk along with the lakeside nature and promenade at their own pace. You can enjoy the sight of huge chestnut and Quercus trees stretching their branches and Mizubasho flowers blooming around May every year from the bike path.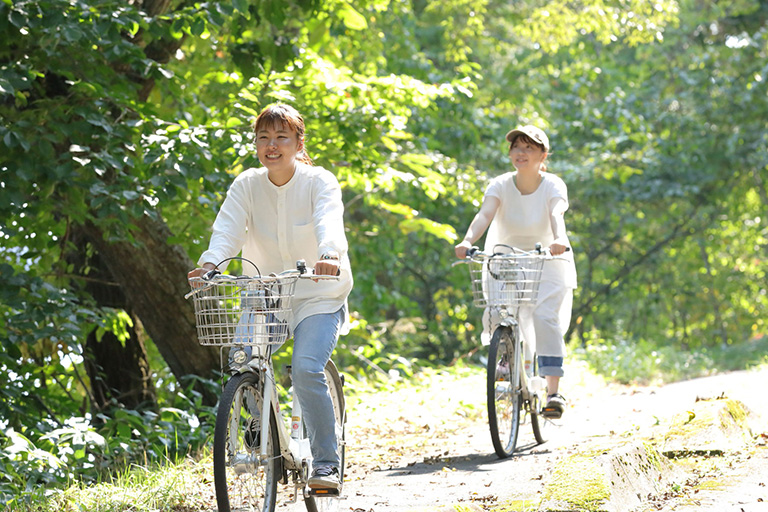 Binoculars are also available for rent at the visitor center so that you can enjoy bird watching and animal observation.
Around Lake Poroto, there are about 140 species of wild birds such as swans, white-tailed eagles, and kingfishers, mammals such as squirrels, flying squirrels, and raccoon dogs, and many insects. Maybe you have an unexpected encounter? !!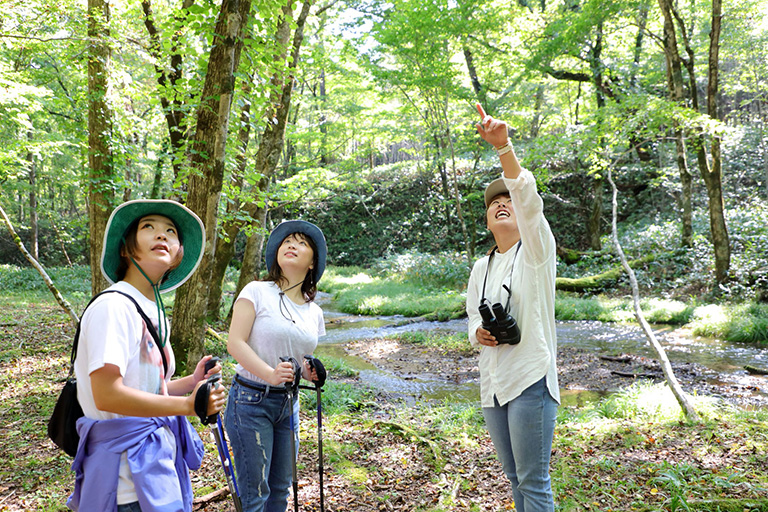 For those who want to enjoy walking more actively, try Nordic walking, which has become popular in recent years! Nordic walking enables highly effective exercise while reducing the burden on the legs and waist. The dedicated pole is rented at the visitor center. Why don't you sweat comfortably while feeling the wind blowing on the lake?
[Visitor Center in Poroto Recreation Forest]
Canadian canoe (three-seater)
◎ 1000 yen per hour for the first person
◎ 500 yen per person from the second person (the third person is only for children)
Bicycle rental
◎ Ordinary bicycle (single-seater) 500 yen per hour Excess charge 30 minutes 300 yen
◎ Mountain bike (1 person) 1 hour 700 yen Excess charge 30 minutes 400 yen
◎ Children's bicycle (single-seater) 1 hour 300 yen Excess charge 30 minutes 100 yen
binoculars
1 unit 2 hours 300 yen
Nordic walking pole
1 group 2 hours 300 yen
Shiraoi beef and Shiraoi burger! Gourmet foods you can't miss!
Shiraoi beef is a popular gourmet food that represents Shiraoi Town. In Shiraoi Town, Japanese Black beef production started for the first time in Hokkaido, and currently, about 1,400 cows are shipped annually. As one of the best brand beef in Hokkaido, it boasts nationwide popularity. You can enjoy a menu using Shiraoi beef at multiple restaurants in the town. We also rent barbecue equipment at Poroto no Mori Campsite, so it is recommended to enjoy a barbecue with the town's ingredients!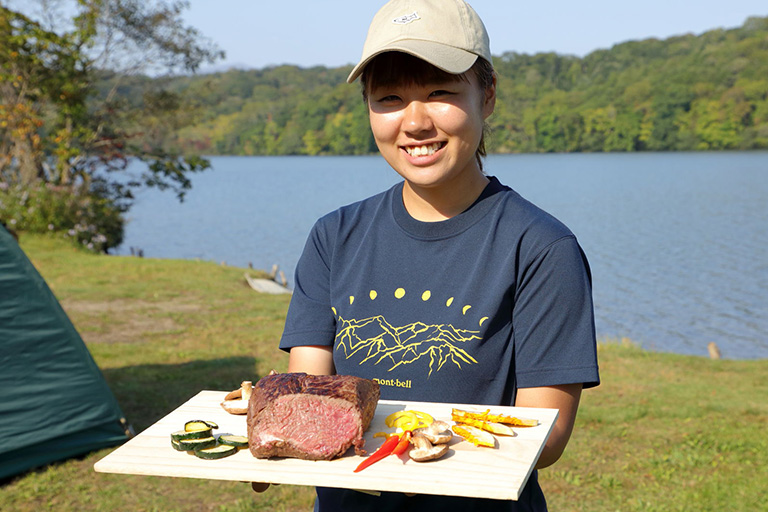 * There is a barbecue prohibited area around Lake Poroto, so please check with the visitor center in advance.
Another popular gourmet that has been attracting attention in recent years is "Shiraoi Burger."This is a local menu with the main ingredients being Shiraoi beef and other Shiraoi products and is served at restaurants and supermarkets in the town.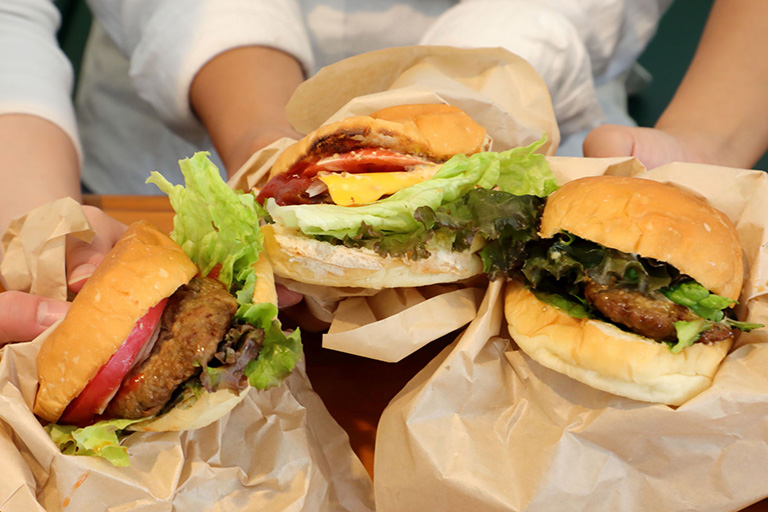 From left to right: home-ground burger 470 yen, home-ground cheeseburger 530 yen, teriyaki burger 530 yen (All prices are tax excluded.)
KINPEN CAFE
3-1-11 Omachi, Shiraoi Town, Shiraoi County, Hokkaido
TEL 0144-84-8179
MAPCODE: 545 193 013*36