Marusei Butter Sandwich from Rokkatei is one of Hokkaido's most popular souvenirs. It is not widely known that the wrapper is modeled after the product label of Banseisha, a company founded by Benzo Yoda, who was involved in the development of Tokachi during the Meiji era.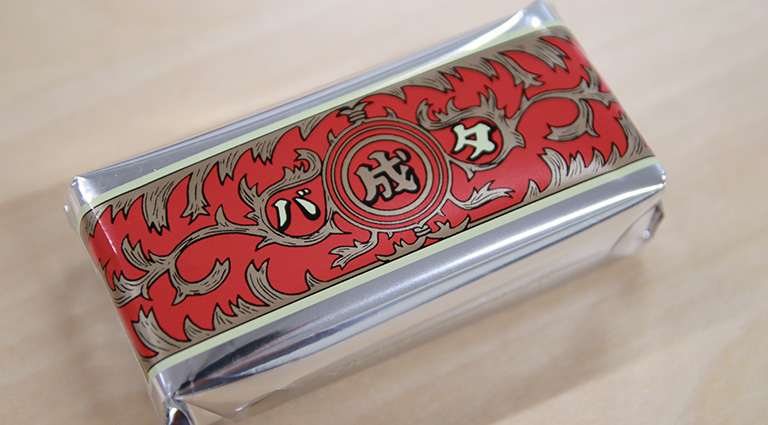 "Marusei" is a symbol made up of the character for "Sei" in "Banseisha" and a circle around it, and was the trademark for the butter used by "Banseisha.
Benzo, who is said to have laid the foundation of the Tokachi region's industry, was born in Osawa Village, Naka County, Izu Province, Shizuoka Prefecture, in 1853. At the age of 19, he moved to Tokyo to study at Keio University. He dreamed of pioneering the uncharted Hokkaido. In 1883, he purchased an undeveloped land from the government, and with 13 households and 27 people, he started to cultivate the land from Oberiberi in the Tokachi Plain. With the wilderness stretching out before them, they set a big plan to cultivate approximately 10,000 hectares (100 square kilometers) of land.
They tried to cultivate rice, wheat, and vegetables, but due to repeated Cold damage, grasshoppers, and rat invasion, most of their ventures failed, except for the paddy fields. Many people fled Tokachi because of the harsh climate and the harshness of the cultivation process.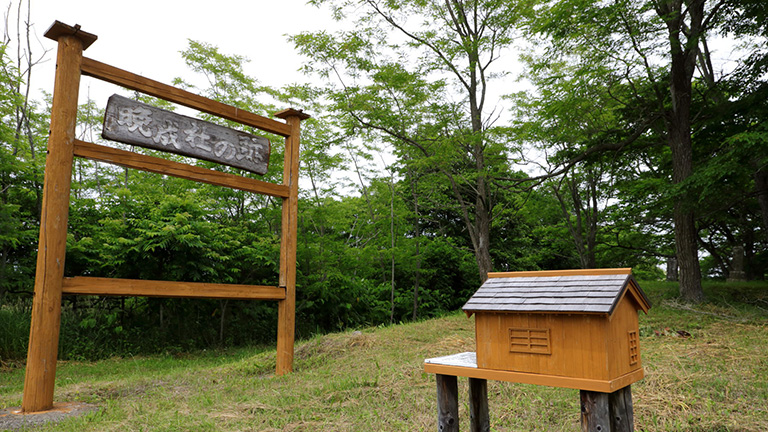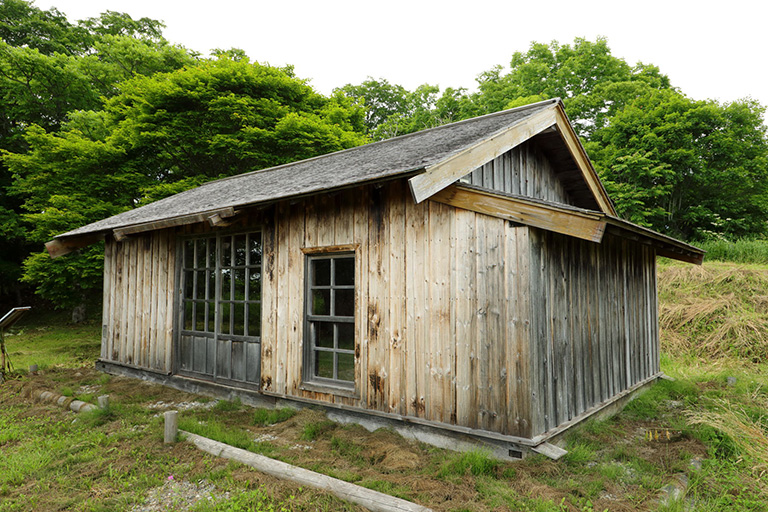 The residence where Benzo lived has been restored in the Banseisha Historical Park (Taiki Town).
After witnessing the difficulties of farming, Benzo's next venture was livestock ranching. He acquired 10,000 hectares of land in Oikamanae (today's Taiki Town), raised cattle and horses, and began producing butter. Marusei Butter, which bore the company's name, was well-received, but it did not last long due to the difficulty of finding customers and the high transportation cost.
Benzo was also involved in many other businesses, such as starch production, sericulture, apple cultivation, flax cultivation, shiitake mushroom cultivation, and rush cultivation, but none were successful. However, it is said that the people of later generations used Benzo's efforts and failures to develop the industries of modern-day Tokachi. In 1925, Benzo died at the age of 73, and at the time of his death, it is said that he left behind this message, " There's nothing left for Banseisha. But in Tokachi Plain…" It seems that he was a man who continued to pursue his dream until the very end.
It is said that it was Benzo and his company that started pig farming in Tokachi. In the beginning, pork was a precious commodity for the common people, but in the Showa period, pork rice bowls, grilled with a sweet and spicy sauce inspired by eel bowls, became popular as a dish that the common people could eat. It is now known throughout Japan as Obihiro's local cuisine.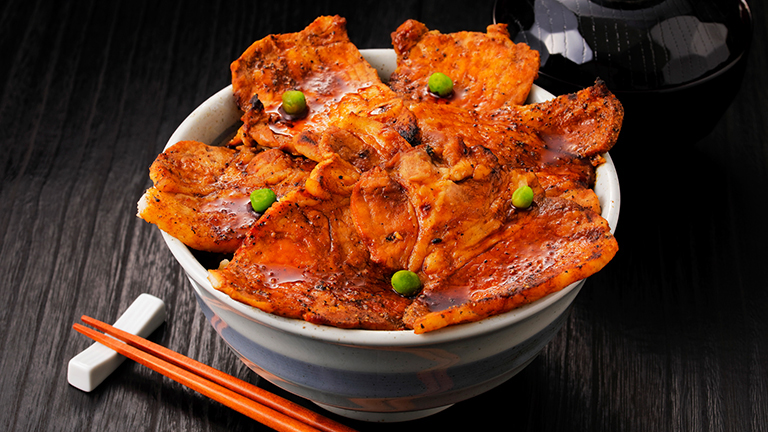 Another famous confectionery of Rokkatei, "Hitotsu Nabe," shaped like a pot, also originated from Benzo's poem. Shortly after the settlement of the area, the long summer rains meant that no crops were harvested. When one of his colleagues lamented with a haiku, " miserable life with only one pig and one pot," Benzo replied to him with a haiku, "At the beginning of cultivation, there is only one pig and one pot. The confectionary created from this poem is called "Hitotsu Nabe." (It means "one pot.")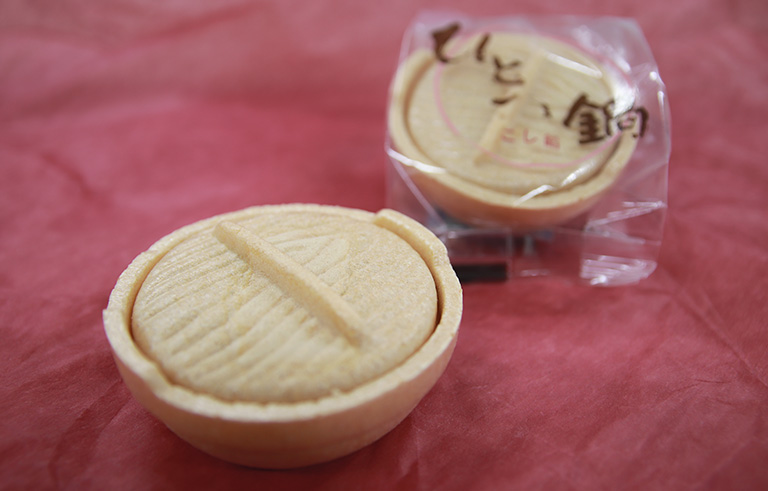 In 1941, a bronze statue of Benzo, who received many honors during his lifetime, including the Medal with Green Ribbon, was built in Nakajima Park in front of Obihiro Shrine. Buichi Nakajima, a member of the Obihiro City Council who was instrumental in constructing the statue, is also known as the grandfather of singer-songwriter Miyuki Nakajima. This statue was removed during the war due to a metal recovery order but was rebuilt in 1951.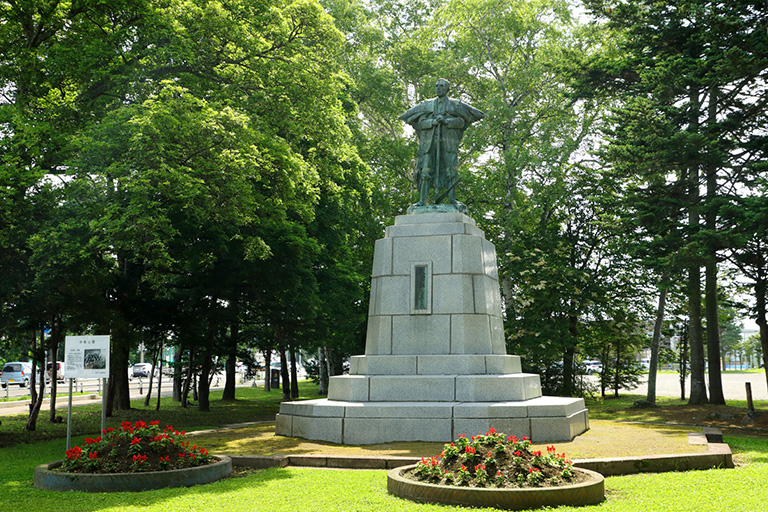 A statue of Benzo Yoda in Nakajima Park (Obihiro City)
There are many theories as to why Benzo failed in his business ventures, but one of them is the Tokachi River's flooding. In the great flood of 1898, Benzo's flax factory was damaged. The Tokachi River, which repeatedly overflowed every time there was heavy rain, was a hardship to the pioneers. It is thought that flood control measures for the Tokachi River were a great desire of the past people.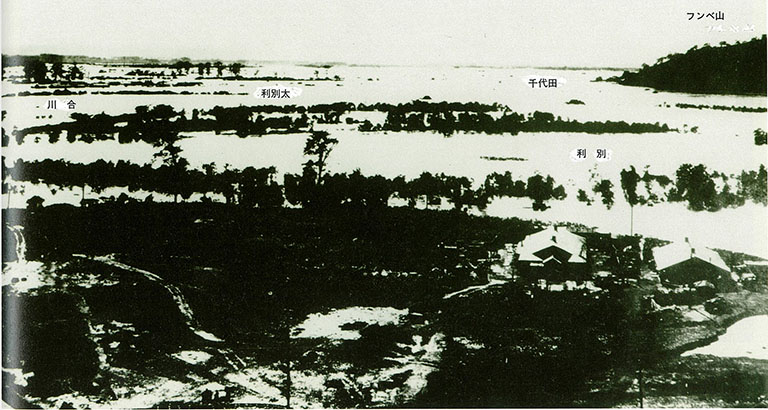 Photo of the flood of 1922 (Ribetsu area Chiyoda Ikeda Town) from "Tokachigawa Shashin de Tsuzuru Hensen."
Banseisha Historic Site Park MAPCODE: 699 282 207*78
Nakajima Park MAPCODE: 124 655 288*2